Certified Nursing Assistant (CNA)
Students will learn the essential skills required to fulfill the responsibilities that comprise the full spectrum of patient care, including gathering vital medical information, maintaining a safe, clean environment, assisting patients with daily activities, and communicating vital health information about a patient's condition to supervising RNs and LPNs and other medical staff. This program will prepare the student for certification by the State of California as an entry-level healthcare worker.
in Partnership with
The CNA program in California as offered through McKallen Medical is not a part of Lifework Education's ABHES grant of accreditation.
Online Evening and Clinical Schedule
Online Theory Classes are offered online via Zoom on Monday – Thursday. Clinicals are 7:00am-5:30pm at a local skilled nursing facility. 6 week course
**Skills Practice Labs are available on Fridays or Saturdays in Rancho Cucamonga, CA**
Fill out the
Inquiry Form
to give us an idea of what you're looking for in your career path!
Explore your financing options:
Employer Sponsorship

(if available in your area):
We have partnered with some of the best and most prominent employers in the region, to bring you the opportunity to cover the cost of your tuition, as well as ensure your future with a guaranteed job position upon graduation.

Financing:


We offer financing available to suit your needs and give you the flexibility to start a program when it's right for you.



Leading Age Grant funding (if available in your area):
The CNA Training program provides training, wrap-around support (like childcare, transportation, food, ESL Training, scrubs, and textbooks), and incentives for career development for those entering or already in the field. This program will make significant headway in turning the tides on the ongoing workforce shortage crisis pervading the health care workforce that supports older adults across the country.
Tuition Includes
Textbook & Workbook
1 Uniform CPR/BLS Certification
Job Assistance
Livescan Fingerprinting
Minimum Admission Requirements
Ages 16 or Above (must have parent or guardian permission if under 18)
Valid Government Photo ID (Drivers License/State ID, Passport, etc)
Social Security Card or Tax ID Number (TIN) letter from IRS
Required Technology
Internet Access
Gmail Email Account
Microsoft Word Software
Web Camera
**Online Classes will be taught via Google Classroom and Zoom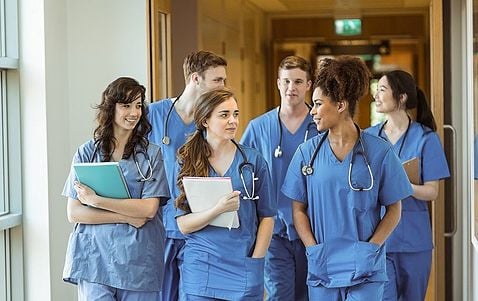 Frequently Asked Questions
The class time missed will have to made up before receiving a certificate of completion.

Yes, we will assist you with test registration and provide helpful study materials to prepare you for the state exam.

Small class sizes are preferred. 12 students are the maximum for each class session.

We follow the recommended guideline from the CDC, California Department of Health and the policies of the facilities that we have clinical partnerships with. Vaccination is required. Students will be working in healthcare facilities with healthcare providers and immunocompromised patients.

Riverside, Loma Linda, Long Beach, Woodland Hills, and more to come!

Due to covid delays, some students are experiencing delays with scheduling an appointment for physical and TB clearance. The physical & TB forms must be completed before starting clinical. Please inform the Program Director or your instructor VIA EMAIL if you experience any delay in scheduling your examination.

The classes are 6 weeks long, Theory is taught during the first 3 weeks and the clinicals are completed during weeks 4-6 at the skilled nursing facilities.

Classes are held Monday through Friday
The online classes are live classes taught via Zoom, you must be logged on to participate in the class
Note: Continuing education courses are not included within this institution's ABHES grant of accreditation