Start Your Career as a CNA in Arizona
Working as a Certified Nursing Assistant (CNA) is a rewarding career that lets you make a real difference in the lives of others. Lifework can help you get started in this important field with a program designed to teach you the essential skills to provide a full spectrum of patient care.
PROGRAMS THAT FIT YOUR SCHEDULE
TUITION: $1,500
Includes Use of Textbook
Includes Stethoscope and Uniform Top
Includes Use of Class Supplies
Payment Options Available
Daytime, Evenings, or Weekends. Mesa and Tempe.
Daytime: 4 weeks - Monday - Friday 7:00 AM - 4:00 PM
Evening: 6 weeks - Monday - Thursday 5:00 PM - 10:00 PM
Weekend: 7 weekends - Saturday & Sunday 7:00 AM - 5:00 PM
The Nursing Assistant Program, approved by the Arizona State Board of Nursing, is a 126-hour program comprised of 86 classroom/laboratory hours, and 40 clinical hours. This program will provide students with the theory and skills required to practice as a nursing assistant in long-term care, intermediate care, and acute care settings.

The curriculum includes classroom/lab/clinical instruction in physiology, psychological, and basic nursing care needs when caring for clients across the lifespan with a primary focus on long-term care. Teaching methods encompass a variety of strategies including hands on practice, didactic, discussion, videos, computer-aided technology, as well as laboratory and clinic based work experience.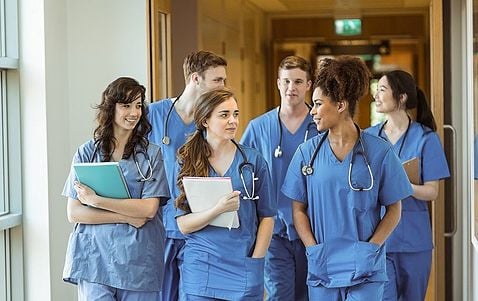 Our CNA Programs provide all the core knowledge and skills you'll need, including:
Communication, interpersonal skills, and documentation

Infection control

Safety and emergency procedures, including abdominal thrusts for foreign body airway obstruction and cardiopulmonary resuscitation

Patient or resident independence

Patient or resident rights

Recognizing and reporting abuse, mistreatment or neglect to a supervisor

Basic nursing assistant skills, including:

Taking vital signs, height, and weight using standing, wheelchair and bed scales

Maintaining a patient's or resident's environment

Observing and reporting pain

Assisting with diagnostic tests including obtaining specimens

Providing care for patients or residents with drains and tubes including catheters and feeding tubes

Recognizing and reporting abnormal patient or resident physical, psychological, or mental changes to a supervisor

Applying clean bandages

Providing peri-operative care

Assisting in admitting, transferring, or discharging patients or residents

Personal care skills, including: Bathing, skin care, and dressing, Oral and denture care, Shampoo and hair care, Fingernail care, Toileting, perineal, and ostomy care, Feeding and hydration, including proper feeding techniques and use of assistive devices in feeding

Age specific, mental health, and social service needs, including:

Modifying the nursing assistant's behavior in response to patient or resident behavior

Demonstrating an awareness of the developmental tasks and physiologic changes associated with the aging process

Responding to patient or resident behavior,

Allowing the resident or patient to make personal choices and providing and reinforcing other behavior consistent with the individual's dignity

Providing culturally sensitive care

Caring for the dying patient or resident

Using the patient's or resident's family as a source of emotional support for the resident or patient

Care of the cognitively impaired patient or resident including;

Understanding and addressing the unique needs and behaviors of patients or residents with dementia or other cognitive impairment,

Communicating with cognitively impaired patients or residents,

Reducing the effects of cognitive impairment, and

Appropriate responses to the behavior of cognitively impaired individuals.

Skills for basic restorative services, including: Body mechanics; Resident self-care; Assistive devices used in transferring, ambulating and dressing; Range of motion exercises; Bowel and bladder training; Care and use of prosthetic and orthotic devices; and Turning and positioning a resident in bed, transferring a resident between bed and chair and positioning a resident in a chair.
Learn more about being a CNA
The position of certified nursing assistant, commonly referred to with the acronym of CNA, assists patients with important healthcare needs. This individual serves as a liaison between patients and Licensed Practical Nurses or Registered Nurses. CNAs work in a wide variety of facilities, ranging from hospitals to skilled nursing facilities, home care settings, adult daycare centers, assisted living facilities, hospices and beyond.
If you are interested in becoming a CNA, Lifework can help you obtain a certification with our informative medical courses. This line of work is perfect for those who are interested in helping others. CNAs do much more than provide care to patients. They also relay important information between patients and other nurses and vice versa. Become a CNA and you will dramatically improve patients' quality of life, confidence, happiness, and well-being. You will enjoy daily contact with patients, help them with serious medical needs, and enjoy a lucrative and rewarding career.
Learn More Today!
Approvals
Lifework is proud to offer our proprietary CPR and First Aid certification courses. We are also a national partner and Licensed Training Provider with the American Red Cross (ARC), and operate several American Heart Association (AHA) and Health and Safety Institute (HSI) Training Centers. All resuscitation courses follow the guidelines published by the International Liaison Committee on Resuscitation (ILCOR).
We offer several professional training programs, including EMT, CNA, Caregiver, and phlebotomy, all of which are approved by the relevant state agencies. Currently, only the paramedic program is included under the ABHES grant of accreditation.
Lifework's paramedic program is accredited by CAAHEP under the recommendation of CoAEMSP and institutionally accredited in Peoria, Arizona, by the Accrediting Bureau of Health Education Schools (ABHES).